What is the Who Is NOBODY? Anti-Bullying Edition…
Bullying generally stops in less than 10 seconds, when peers intervene on behalf of the victim.
~ Study from York University
When students participate in Who Is NOBODY?/Qui est PERSONNE? or Who Is GREEN? they are standing up and helping another living thing. While most participants see these programs as community outreach initiatives that apply the curriculum to real-life experiences, the Anti-Bullying Edition NOBODY's goal is to draw attention to another important focus of these programs:
A first-hand experience in how easy it is NOT to be a bystander.
Here are a few ideas to help bring the anti-bullying impact of your Who Is NOBODY? Anti-Bullying Edition Program to your classroom:
Get students writing in anti-bullying language
Ask students to include the following information in their scrapbook stories:
Who did you stand up for? (vs. Who did you help?)
i.e. I stood up for women and children in shelters by collecting toiletries
Describe why you weren't a bystander
i.e. I wasn't a bystander because I took action to help create awareness school-wide around animal rights by making a morning announcement
Get students talking in anti-bullying language
Ask students to share their projects during Step #5 'Present your story, picture and NOBODY to your class'
by answering routine questions with anti-bullying language:
Was it hard to stand up and help the environment by cleaning a local park?
i.e. Some people looked at me in a funny way but I know that's just because I was doing something out of the ordinary for my community so I wasn't bothered
How did it feel NOT to be a bystander by donating glasses to World Vision?
i.e. It felt great because so many people joined in by donating their used glasses and so my project encouraged more people to stop being a bystander
School Assembly
Have a school assembly each month to highlight how students have stood up and NOT been a bystander for all the different local, national and international organizations and causes, perhaps highlighting a few students who had a hurdle to overcome where they learned a valuable lesson
i.e. When I stood up against child labour by asking my class to "Google Brands before Buying" and made a poster to keep track of socially conscious companies I was worried because at first no one was adding names to my poster but once a few people got involved everyone started to join in!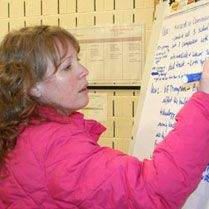 What an incredible way for students to become involved in the world around them by becoming part of the solution. After the first presentation, I was hooked. Each project was unique and opened the minds of all students to needs or opportunities in our community and beyond that they would never have been aware of otherwise. The conversations after each presentation were so insightful and positive…
– Cheryl Diffin, Owen Sound, Canada
Anti-Bullying Awareness Week – November 13-17
Plan an activity for each day of the week, for example:
Ask students from each grade to share their projects on the morning announcements over the course of
the week to inspire their peers, making sure they include: "I wasn't a bystander because…"
Challenge students to spend recess with a student they don't know very well
Ask students to brainstorm five peaceful ways to intervene on behalf of a victim when they are being bullied or see someone else being bullied & discuss with students who they can talk to if they are being bullied
Make a collage of headlines from the newspaper where bullying is taking place outside the play ground in sports, business, politics, etc. and discuss each article
Brainstorm scenes in movies, books and television shows where people are bullied and discuss how bystanders could have prevented the bullying
Discuss why people bully (low self-esteem, etc.) to dis-empower the bully figure
Discuss Dr. Seuss's Quote:
"Those who mind don't matter and those who matter don't mind"and explain that after you have reported the bullying that it's important to then feel good based on what you think and what your real friends who really care about you think rather than focus on what a bully thinks
See media (below)
Pink T-shirt day – February 28th 2018
Get your whole school involved in an anti-bullying awareness pink shirt day. More information can be found at: www.pinkshirtday.ca/ or simply encourage students to wear one article of clothing that is pink (t-shirt, bandana, socks)
Health and Physical Education Curriculum Links
If appropriate, tell your class that NOBODY has no sexual orientation and no socioeconomic status when
introducing NOBODY.
Media
Invite media to celebrate how your class and or school is practicing not being a bystander via your Who Is NOBODY? Projects and share your Pink Anti-Bullying Mascot & Scrapbook over Canada's Anti-bulllying Awareness Week and or Pink Shirt Day & Receive a FREE Top-Up Kit for any media that includes www.whoisnobody.com – one Top-Up Kit per media.
Click here for more information
*Contact media now as they line up their Anti-Bullying Awareness Week stories weeks in advance.